Two Korean scientists, Prof. Doo Sung Lee, from Sungk Yunk Wan University, Korea, and Prof. Kookheon Char, from Seoul National University, Korea, were invited to visit the CIAC On March 31, 2012.
During their stay, the two professors delivered two lectures entitled "Smart Block Copolymers for Theranostics" and "Functional Thin Film Platforms and Intelligent Hybrid Materials" separately.
Stimuli-responsive polymeric systems, including micelles and hydrogels, have attracted extensive attention as "smart" materials for biomedical applications. In his presentation, Prof. Lee introduced some recent works on the pH and/or temperature responsive micelles and hydrogels for controlled drug delivery and molecular imaging applications.
Prof. Char discussed recent progresses in their laboratory in block copolymer thin films and layer-by-layer thin film depositions to program (multiple) functions within the thin films. Also, the hybridization schemes for organic-inorganic structures optimal for various applications were presented and the hierarchical structure mimicking the Nature, combining both the bottom-up and the top-down approaches, were briefly discussed.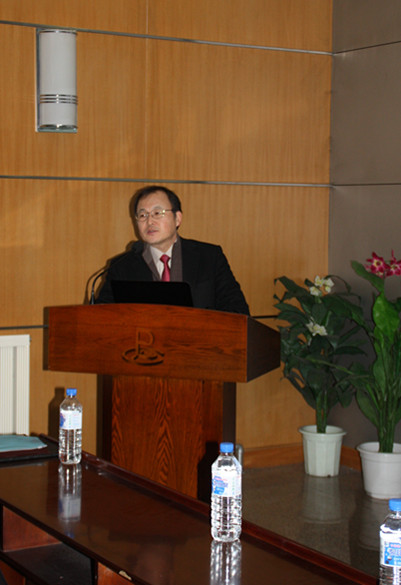 Prof. Doo Sung Lee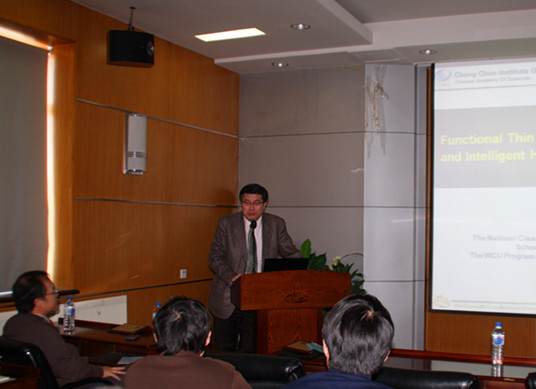 Prof. Kookheon Char